New Website and Portraits for Medium and Psychic Artist in Cornwall
New web design and a fresh look for Sandy Ingham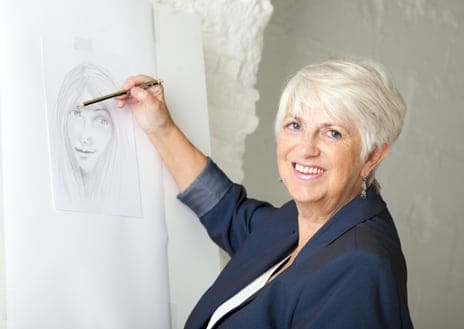 Sandy is a medium and psychic artist, and she approached Sharkfin Media with a request to help design a new website for her. As she is also local to Cornwall, we were able to start her consultation process with a face to face meeting.
Ensuring we have the best contact with our clients is of paramount importance – this also includes communication by telephone and e mail, ensuring we respond as quickly as possible and maintain an open and honest relationship.
Sandy was very clear about what she wanted for her new website and we were very happy to help. Sandy is very passionate about her work and we feel that the choice of colours used in her web design help to reflect this. Turqoise has many meanings but for this website it was important to use it to show calm, spiritual grounding, creativity, energy and wisdom. White is associated with light, wholeness and safety.
New portraits in the Lightbox studio
Dan, our photographer, has his own studio within the Sharkfin offices in Cornwall. Sandy worked with Dan to create some stunning portraits in the studio and these are now on her website. They serve as an introduction to her, reflecting her as a professional yet warm and welcoming person.
Additional website feature
A very important part of the website for Sandy is to ensure information about her events is easy to find. She has a built in feature to allow people to view her event calendar and purchase tickets. She also has a shop where people can purchase her book and DVD, plus a facility to book a telephone appointment with her. This helps her to offer a flexible approach to her work and also acts as additional marketing. We're very pleased with her website, which you can view here – we hope you will enjoy viewing it.