Exhibition banners and stands are a great way to advertise your business
With approximately only three seconds to attract the attention of a passerby, your exhibition stand must be eye-catching, well designed and must communicate who you are and what you do.
We provide high quality exhibition displays and banner stands to companies across Cornwall and beyond. We make our banners and stands in our studio in Truro and we guarantee a quick production turnaround.
Pop Up Exhibition Stands – Truro Cornwall
Quality anodised finish
Self-locating 'smart' magnetic panels
High quality downlighting
Case converts into a wooden topped mini stand
Mini stand also has a graphic wrap
Dimensions – 2700mm x 2225mm
Design and Photography – Truro Cornwall
We can design your artwork and, where necessary, take high-resolution images of your products, either at your location or in our photography studio in central Truro depending on the subject matter, ensuring an extremely high print quality.
All of our banners and pop up systems have their own dedicated compact carry cases and are easy to transport. Our pop-ups have extendable fully magnetic frames and magnetic fixing bars that allow you to construct your portable display with ease.
Roller Banners – Truro Cornwall
Stylish lightweight components
Ideal for point of sale, retail or exhibition environments
Available in anodised silver
Quick to assemble and easy to use
Includes quality foam padded carry bag
Dimensions – 800mm x 2110mm
Exhibition Media Blog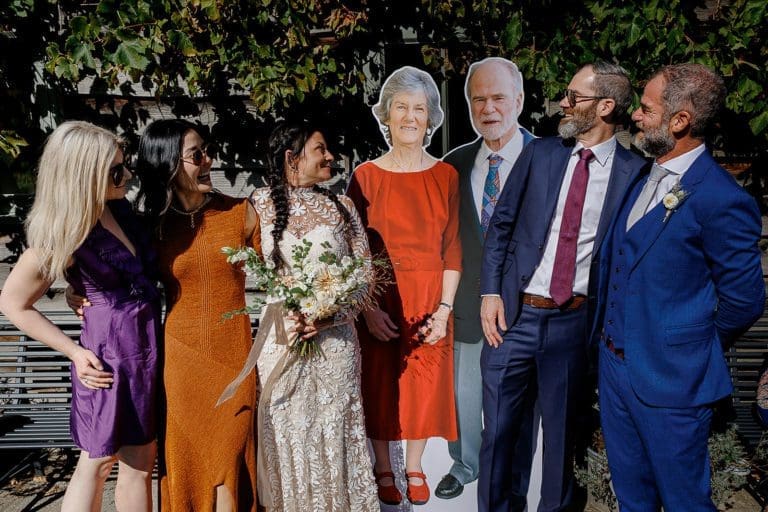 For the parents who couldn't be at their son's wedding, we made a life size cardboard cut out of them both. Here's what they had to say: "Jonathan did a fantastic job of creating a life sized cut out of us proud parents so that we could have a virtual presence at our son's wedding…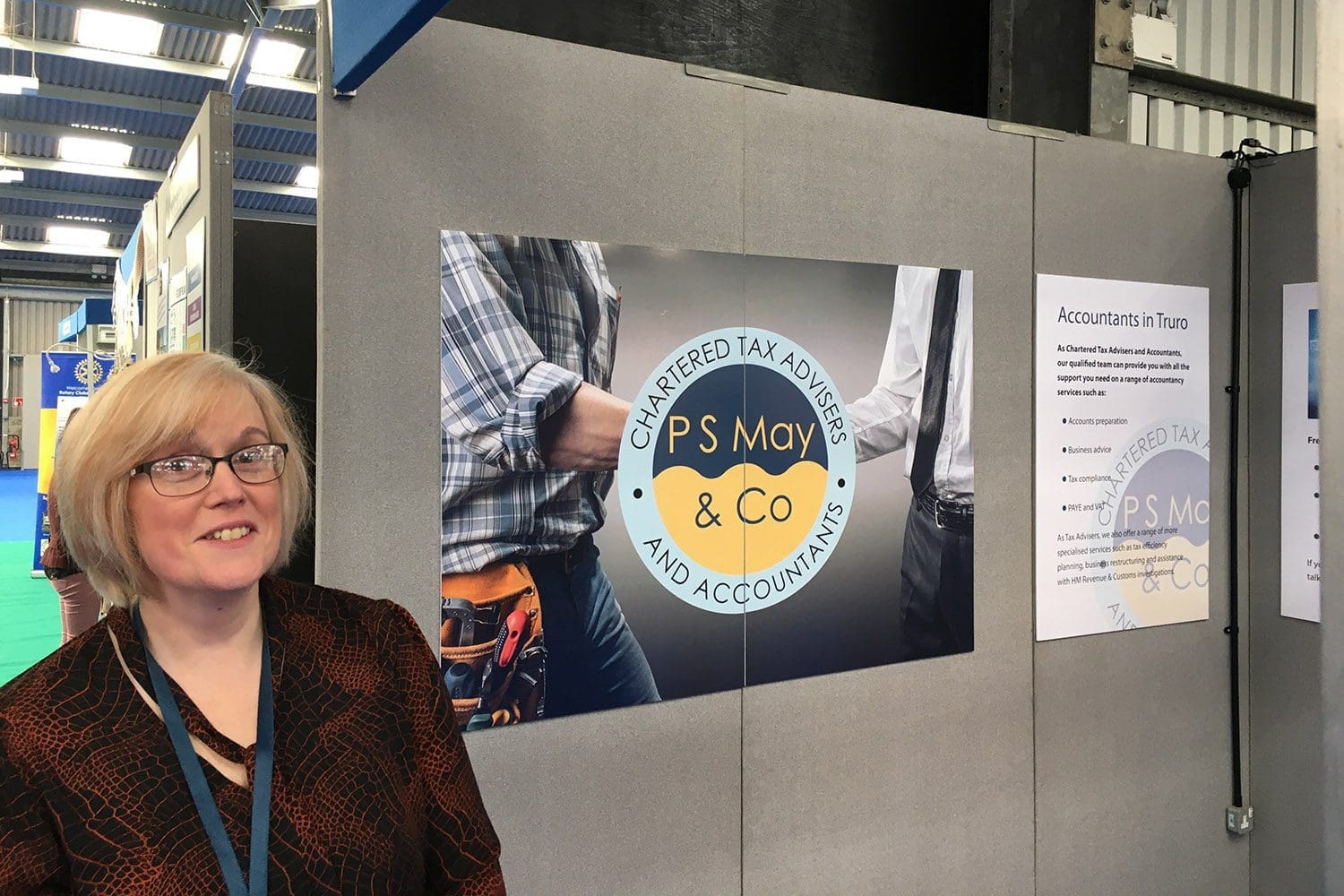 Exhibition Posters We recently designed 5 posters for one of our clients, PS May & Co, an accountancy firm based in Truro, Cornwall. The brief was to tweak the client's existing logo and design 5 A1 posters to be displayed at the recent Cornwall Business show at the royal Cornwall Showground. We regard good design…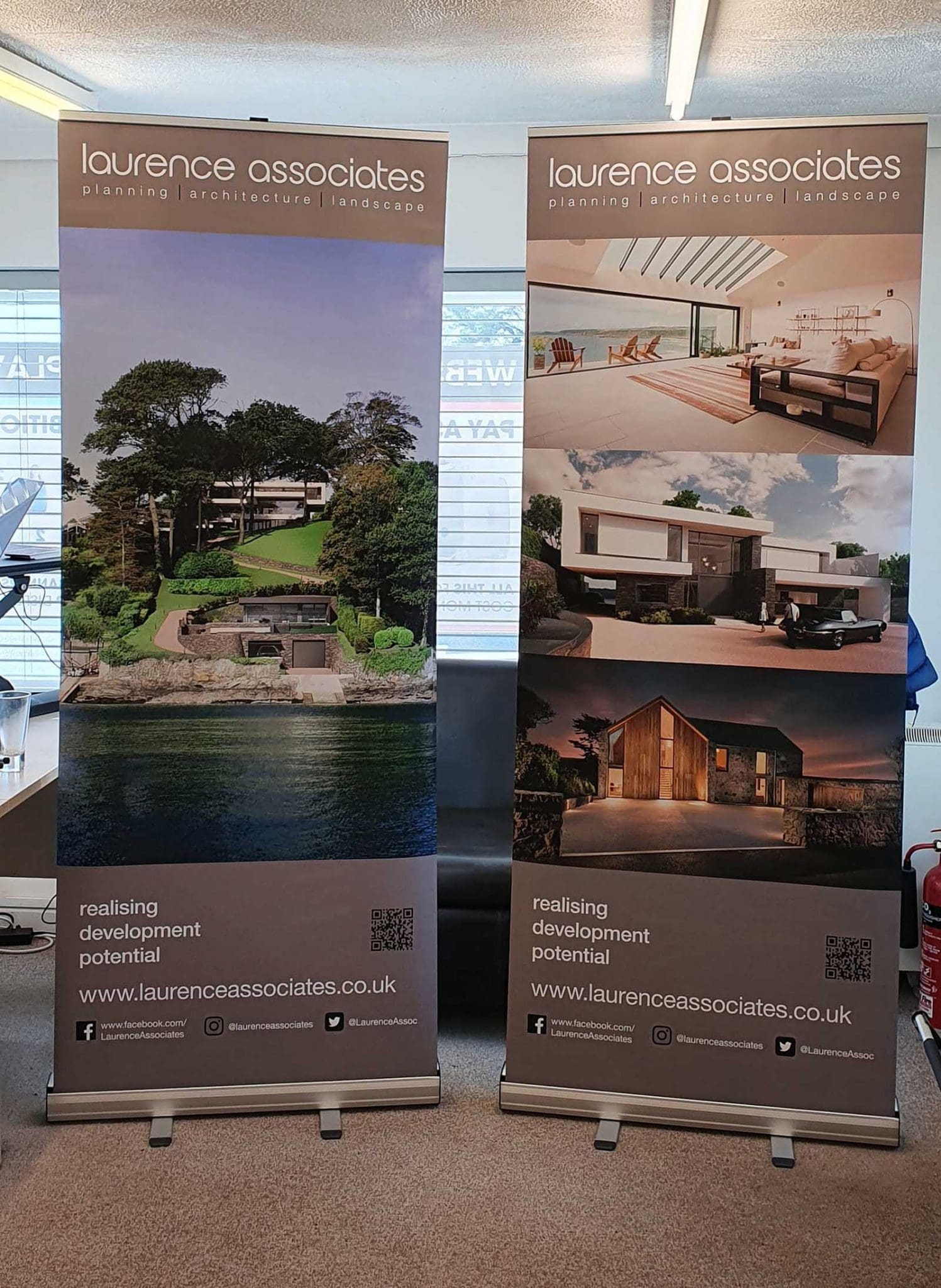 Roller Banner Just completed 2 roller banners for Laurence Associates Our roller banners are printed and assembled in house so the turn around time can be as little as one day. As well as printing the banners we can design them for you. Our banners come in a padded carry case and are perfect for…
We have been designing logos for businesses in Cornwall since 2003
We can design your logo from scratch or base the design on an existing logo or develop a logo further to completion. As part of our website package, we will design your company logo at no extra cost.
Logo Design Example
Our client sketched his logo idea onto paper
We took those initial ideas and developed them to the finished logo here
Logo Portfolio
Business Cards
Sharkfin Media have designed hundreds of business cards for businesses in Cornwall
It is important that your business cards are high quality in both design and manufacture as this will reflect well on your business.
Design Service
Our business card design service is free within our website package and we ensure the design cues flows through from your website to the card.
We will design your business card with the following options:
Single or double sided
Matt laminated (if required)
Rounded corners (if required)
Print ready files supplied
You are free to use our printers or we will send you the business card artwork print ready in PDF form